First Half of 2015 Not a Great Start for Book Publishers
Book sales decline 4.1% in first half of 2015, according to AAP StatShot.
The Association of American Publishers (AAP) released its quarterly StatShot report for the book industry, including revenue numbers for over 1,200 publishers in the trade, education, university press, and professional publishing sectors. According to the report, sales declined 4.1% in the first half of 2015 when compared to the first half of 2014. Book sales declined approximately $240 million during that period.
A major contributor to the sales decline was the 10.3% drop in ebook sales. The children's and YA segments led this drop with 45.5% decline in sales year-over-year.
Though this may confirm the idea that ebooks are waning in popularity, it is important to note that some pundits have criticized StatShot reports for not representing the entire ebook market. Statshot does not share the ebook sales of independent and self-publishers, who tend to rely more on ebook sales. According to Talking New Media, that discounts billions of dollars in ebook sales annually.
Trade print book sales also declined compared to 2014, but showed a slight resurgence in June. In that month, trade sales were up 5.5% when compared to June 2014. K-12 education publishers saw a 10.8% drop in instructional materials sales, though this is compared to an exceptional 2014 first half in which sales were up 17.2%. Higher education course material sales also fell 9.1% in the first half of 2015.
One of the brightest spots for the book industry continues to be the audiobook segment, particularly in the trade category. Trade audiobook sales grew by double-digit percentage points in 2015.
See the complete StatShot press release below.
Washington, DC; Oct. 8, 2015 – Publishers' book sales for the first half of the year (Jan. – June 2015) were down 4.1% at $5.58 billion compared to $5.82 billion for the first six months in 2014. These numbers include sales for all tracked categories (Trade - fiction/non-fiction/religious, K-12 Instructional Materials, Higher Education Course Materials, Professional Publishing, and University Presses). Publishers net revenue is tracked monthly by the Association of American Publishers (AAP) and includes sales data from more than 1,200 publishers (#AAPStats).
Some of the trends noted during the first half of 2015:
Trade books (fiction/non-fiction/religious) were down from the first half of 2014, but began showing signs of improvement in June
Trade eBooks declined 10.3% from 2014

The bulk of eBook year-over-year decline comes from the Childrens/YA category, which was down 45.5%
The decline comes after tremendous growth in 2014 and challenging comps against blockbuster titles, including Frozen and the Divergent series

Paperbacks and downloaded audiobooks within the trade category grew in double digits
Sales declined for Educational and Instructional materials
Trade:
June was the best month of the year-to-date for trade books, with 5.5% growth compared to June 2014. This is due to growth in Religious Presses (12.2%) and Adult Books (7.6%).
Despite the great month, Trade Books declined 1.4% for the first half of the year vs the first half of 2014, falling to $3.09 billion from $3.13 billion.
While Childrens /YA was down 12.3% for the first half of the year, sales in June were down just 2.6%. For perspective, in the first half of 2014 sales of Childrens/YA were up 28.1% compared to the first half of 2013.
"While last year's blockbuster books were mainly Childrens and Young Adult books, this year we're seeing breakthroughs in the Adult Books category, and those numbers are only beginning to come through in the monthly AAP StatShot reports," said Tina Jordan, Vice President of AAP. "The verdict is still out on how these hits will impact eBooks and other formats."
Publisher Net Revenue of Children/YA for Jan - June from 2011 - 2015


Trade Formats:
Downloaded audio remained the fastest-growing format, with 31.0% growth the first half of the year compared to the same period in 2014. Paperbacks continued their good performance this year with 12.5% growth. Hardback books were down 11.0% and eBooks were down 10.3% year-over-year. Within the eBook category, Adult Books were down 3.1% and Childrens/YA were down 45.5% for the first half of 2015.

Publisher Net Revenue for all Trade by Format for Jan - June from 2011 – 2015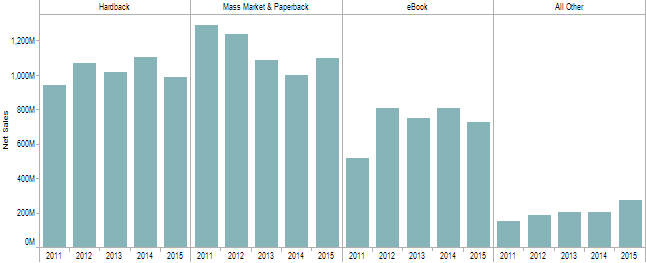 Educational Materials:
Revenues for PreK-12 instructional materials were down by 10.8% in the first half of the year. This reflects comparison against incredible growth during the first half of 2014, when sales were up 17.2% compared to 2013. Higher Education course materials were down 9.1%.

Professional and Scholarly Publishing:
Sales for Professional Publishing, which includes business, medical, law, scientific and technical books and journals, are up 16.6% for the first half of 2015. However, University Presses were down 2.3% year-over-year in 2015.

About AAP
The Association of American Publishers (AAP) is the voice of the U.S. book and journal publishing industry. AAP represents the industry's priorities on policy, legislative and regulatory issues regionally, nationally and worldwide. These include the protection of intellectual property rights and worldwide copyright enforcement, digital and new technology issues, funding for education and libraries, tax and trade, censorship and literacy. Our four hundred member companies represent major commercial, educational and professional companies as well as independents, non-profits, university presses and scholarly societies.
Find us online at www.publishers.org or on twitter at @AmericanPublish.
E
Ellen Harvey
Author's page
Ellen Harvey is a freelance writer and editor who covers the latest technologies and strategies reshaping the publishing landscape. She previously served as the Senior Editor at Publishing Executive and Book Business.